Title: Flamless electric heat
(won't burn a whole in your pocket)
Label: Mathilda Records
Format: Cassette
Released: 2009
Out of stock
Tracklisting:
Side A:

Francois - In bed
The Great Bear - Love and death song
Lightning Tree Singers - There's no reason why you should remember me
Library Band - How do you play upside down c?
Waterboatmen - Challenge 37: poppy hop
Your Heart Breaks - Holding on

Side B:

Tisso Lake - In the falls
Owl Eyes - What the body remembers
The Hailstones - A trip to the acropolis
Rob St John - A red heron
Vase - Apple, table, penny (first version)
Tek paste - clogs on the handlebars
---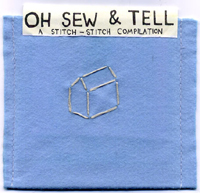 Title: Oh Sew & Tell
Label: Stitch-Stitch
Format: CD-R
Released: 2006
Out of stock
Tracklisting:


The Lonely Ponies - 33 crows
Francois - Around
William-William - Lupin
My Two Toms & The Pickle Horses - Canoe
Skinny Kid Rodeo - Comrades in (each others) arma
Roxanne: The Early Years - Cinema
Bucky - Miranda
Ladybird - Yr strange ways
Aaron - I am one
Artic Circle - Trawler
I Know I Have No Collar - John watson
Balky Mule - Untitled
Headfall - Parcels
Lesbo Pig - Where its at is Where You Are
Vase - After dark with the minotaur (dusk version)
My Two Toms - Gladys
---

Title: Exhibit l
Label: Homocrime
Format: 3" CD-R
Released: 2006
Tracklisting:

Drunk Granny - Leotard
Jean Genet - 69 positions
Dempster Dumpmaster - Balz came & went
Husbands - The party catches
Truly Kaput - Hair
Bare Knees - People like us
Winston Echo - Get on your bike
Vase - Drenched in gel (first version)
The 123s - O lucky man!
---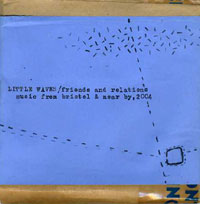 Title: Friends and Relations.
Music from Bristol & Near By
Label: Little waves
Format: CD-R
Released: 2004
This CD is no longer available.
Only a very limited amount were made.
It was compiled and designed by Matt Jones (Crescent & Movietone) for the 2004 Movietone European tour.
Tracklisting:


My Two Toms - Drop cops
Vase - The Sphinx
Attacked by Wolves - Untilted
The Balky Mule - Half marathon
The Awkward Dancers - Cold hands
Crescent - Fountains, first version
Many Fingers - In a dead mans shoes
Lonely Ponies - I'm bored
Headfall - Nitetime photography
Moon Monkey - Head up little seagull
Movietone - Noche marina
The Call in Six - Beagle two, where are you?
Bucky - Mileometer song
Francois - Le chemin du retour
I Know I Have No Collar - I know i have no collar
Mylo Clock And The Pockets - Miriam
My Two Toms And The Pickle Horses - I was at school
---
All content © 2020 Hand Idiom Recordings